Each Spring, Broadway Workshop along with Project Broadway present a lavish full scale Main Stage musical theatre production. We are proud to announce our 2018 Main Stage Production – SWEET CHARITY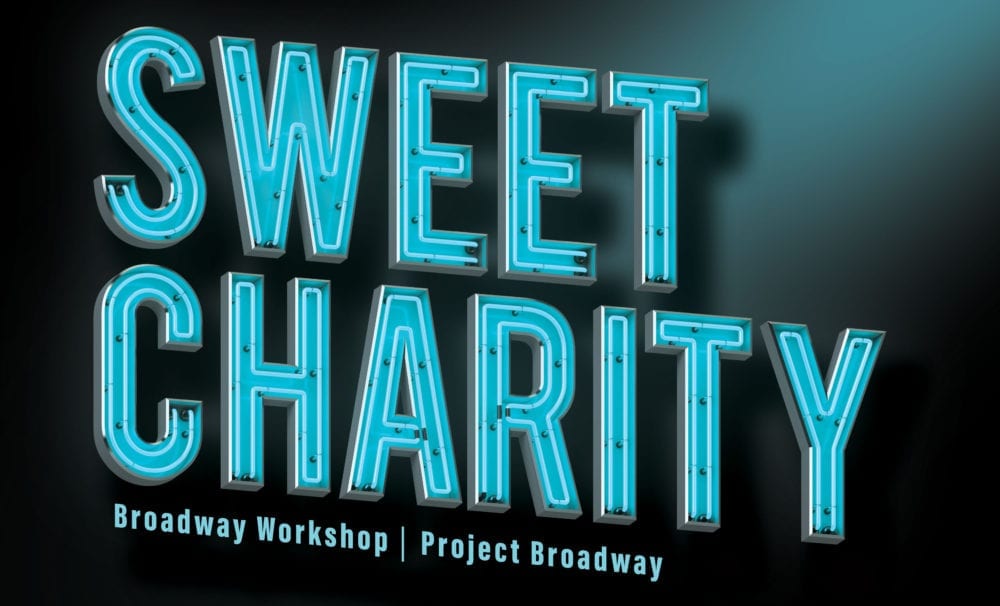 SWEET CHARITY
Book by Neil Simon
Music by Cy Coleman               Lyrics by Dorothy Fields
Based on an original screenplay by Federico Fellini,
Tullio Pinelli and Ennio Flaiano
Musical Direction by Luke Williams
Choreographed  by Casey Leigh Thompson
Directed by Marc Tumminelli
SWEET CHARITY explores the turbulent love life of Charity Hope Valentine, a hopelessly romantic but comically unfortunate dance hall hostess in New York City. With a tuneful, groovy, mid-1960s score by Cy Coleman, sparkling lyrics by Dorothy Fields, and a hilarious book by Neil Simon, SWEET CHARITY captures the all the energy, humor, and heartbreak of Life in the Big City for an unfortunate but irrepressible optimist. Musical numbers include: "Big Spender," "If My Friends Could See Me Now," "There's Gotta Be Something Better Than This," "I'm a Brass Band" and "Baby, Dream Your Dream." The Broadway Workshop production of SWEET CHARITY will mark the first NYC staging of this iconic musical since last seasons acclaimed Off-Broadway production starring Sutton Foster. Please be aware Sweet Charity deals with adult themes.
CASTING ANNOUNCEMENT! We had the most incredible turn out with nearly 250 young people auditioning. We were truly amazed by the amount of talent that came out to be part of our shows. We wish we could cast everyone! We hope that whether you are cast in the shows or not, you will continue your training and love of performing. 
It is important to remember, there is so much that goes into the casting process, we are always doing our best to make sure everyone who comes to our auditions feels supported and inspired. Please do not be discouraged if you are not cast this year, these auditions were incredibly competitive and we just did not have enough roles to offer. Our On Stage program is just one of the many amazing opportunities that is available to you at Broadway Workshop. We hope to see you all at a workshop, master class or this summer at one of our Camps or Intensives!
CAST LIST:
If you have been cast in the show, you will receive a detailed emailed with registration information!
Rehearsals:
Rehearsals take place on weekend afternoon/evenings and some Friday evenings (leading actors only) starting March 18th. All Rehearsals take place at Ripley Grier Studios (520 8th Ave – 16th Floor).
Perfromances:
Performances will take place June 1-3 at the Off-Broadway theatre venue –  The Baruch Performing Arts Center – Nagelberg Theatre – 55 Lexington Ave – NYC.
Schedule:
Below you will find a link to the rehearsal conflict sheet. This document list all potential rehearsals. We do allow conflicts and do our best to make the official schedule around our cast's scheduled conflicts. Please note Friday rehearsals are for small principal scenes only. The full cast will not be called for Friday evening rehearsals. Not all actors will be called for each rehearsal. Actors are only called when they are needed for staging.
REHEARSAL SCHEDULE 
Tuition
There is no fee to audition. If cast, there is a $650 registration fee to participate in the production. Full and partial scholarships are available through Project Broadway. Students requesting full or partial financial assistance will need to fill out a scholarship form BEFORE auditions. Click HERE for our scholarship application.
More Main Stage Info:
The Main Stage production is geared towards high school and college students ages 13-21. Over the past 10 years Broadway Workshop has produced some of the highest quality youth theatre available and has been part of the pilots of serval major musicals – Click here to see photos from our past productions. Our Main Stage and Junior Main Stage productions take place at an Off Broadway Theatre venue in manhattan and utilities the highest level directors, choreographers, lighting designers, set designers, costume designers and sound designers working in New York City. The Main Stage production will have two casts of student actors. All Broadway Workshop's productions are co-produced by PROJECT BROADWAY a 501(c)3 non-profit program dedicated to providing scholarship opportunities for students interested in theatre arts. The Main Stage is a tuition based program, students cast in this program pay a $625 registration fee. Full and partial scholarships are available for students who qualify through Project Broadway.
See clips from our 2017 Main Stage – PIPPIN 
See clips from our 2016 Main Stage – CABARET 
Past Main Stage Productions:
2017 – Pippin
2016 – Cabaret
2015 – Bring It On
2014 – Carrie
2013 – Xanadu
2012 – Legally Blonde
2011 – The Secret Garden (Pilot)
2010 – The Little Mermaid Jr. (Pilot)