Broadway Workshop is thrilled to announce our newest program – THE STUDIO WORKSHOP! Students ages 9-12 will be part of working on the new musical – MISS NELSON IS MISSING in a studio setting. The final workshop presentation will take place in a Broadway rehearsal studio for family and friends.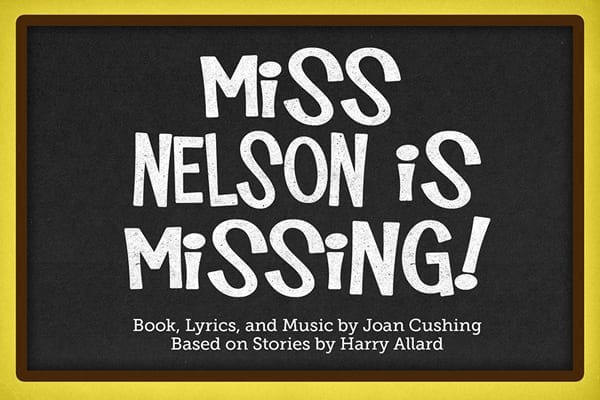 MISS NELSON IS MISSING! THE MUSICAL 
Book, Music & Lyrics by JOAN CUSHING
Based on the book "Miss Nelson is Missing" and "Miss Nelson is Back" by HARRY ALLARD
Illustrated by JAMES MARSHALL
Younger@Part® Edition Adapted by Tessa Farr
This program is now full. Please join the waiting list for updates on openings. 
Broadway Workshop is thrilled to present the NYC pilot workshop production of the beloved children's book – MISS NELSON IS MISSING to be part of our STUDIO WORKSHOP program!
ABOUT THE SHOW:
Miss Nelson's class is the worst behaved in the whole school. Spitballs flying across the room, paper airplanes sailing every which way and uncontrollable children send the gentle, long-suffering teacher, Miss Nelson, over the edge. But the students of Room 207 are in for a surprise when Miss Nelson turns up missing and is replaced by Viola Swamp, a scary substitute teacher who assigns homework from hell and wields her ruler like a sword! In desperation, the students set out to find their beloved Miss Nelson… but will they ever get her back?
ABOUT THE STUDIO WORKSHOP: 
This program does not require an audition in advance to participate. The first 12 students to register will be part of this workshop. Students will audition for roles on the first day of this program and will begin rehearsing in session 2. As this is a learning experience, all rehearsals will be full cast. This is an ensemble show with lots of features for students. Students may have ONE conflict during the process of creating this show.
The final presentation will be performed "workshop style" and utilize minimal props, costumes and sets, and will take place in a Broadway rehearsal studio at Alvin Ailey Dance Theater for family and friends. MISS NELSON IS MISSING will feature an ensemble cast. The cast will feature 12 total student actors and is open to students ages 9-12.
The workshop will be directed by Chelsea Groen. Musical Director and Rehearsal Manager will be announced soon.
DATES:
Session 1: Saturday January 12
Session 2: Saturday January 19
Session 3: Saturday January 26
Session 4: Saturday February 2
Session 5: Saturday February 9
Winter Break – Off 2/17
Session 6: Saturday February 23
Session 7: Sunday February 24 – Final Rehearsal and Studio Performance
TIMES:
3:00-5:00PM
Final Presentation Day  (2/24)- Rehearsal: 3:00-5:00PM – Performance: 5PM
LOCATIONS:
Rehearsal location: Ripley Grier Studios
520 8th Ave – 16th Floor
Final Day Location : Alvin Ailey Studios –
405 West 55th Street
COST:
$495