Each Spring, Broadway Workshop along with Project Broadway present a lavish full scale Junior Main Stage musical theater production. Our 2024 production will the hit Disney musical
Beauty and the Beast JR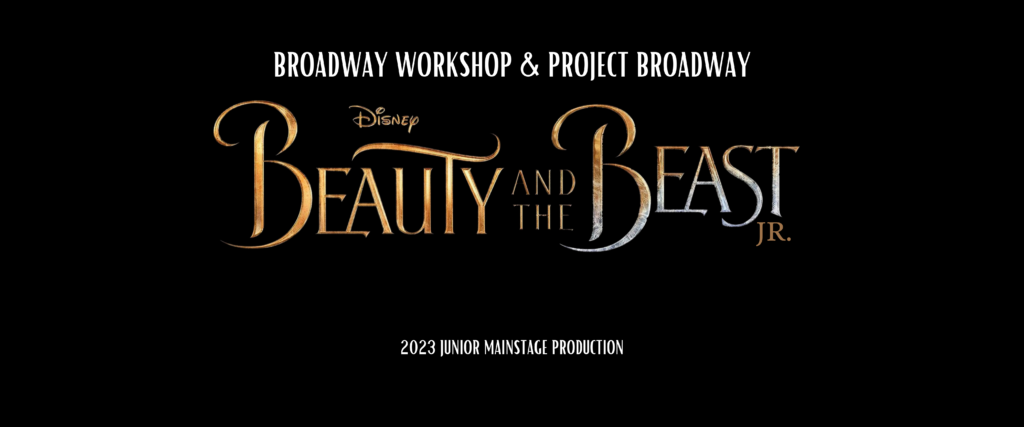 BEAUTY AND THE BEAST JR.
Music by Alan Menken
Lyrics by Howard Ashman & Tim Rice
Book by Linda Woolverton
Originally Directed by Rob Roth
Originally Produced by Disney Theatrical Productions
About the Show
Step into the enchanted world of Broadway's modern classic, Disney's Beauty and the Beast Jr,.  the story of Belle, a young woman in a provincial town, and the Beast, who is really a young prince trapped under the spell of an enchantress. If the Beast can learn to love and be loved, the curse will end and he will be transformed into his former self. But time is running out. If the Beast does not learn his lesson soon, he and his household will be doomed for all eternity. This "tale as old as time" will delight audiences of all ages.
We are seeking two dynamic casts of young actors between the ages of 8-14 for all leading, supporting and ensemble roles in Beauty and the Beast Jr. Students ages 13-14 may audition for both Mainstage and Junior Mainstage and our team will decide where they fit best.
Performances
May 10-12, 2024
Baruch Performing Arts Center
55 Lexington Ave at 24th Street.
Rehearsals
Rehearsals are weekends beginning March 2, 2024
Ripley Grier Studios – 520 8th Ave (16th Floor)
Tech Rehearsals are the week of May 6th
Baruch Performing Arts Center – 55 Lexington Ave.
Below are a list of all potential rehearsals. We allow students to have conflicts within our rehearsal schedule. We will ask that each student be upfront about their conflicts going into the audition process. Please note not all cast members will be called for each rehearsal
REHEARSAL CONFLICT SHEET
Auditions
Students can either attend a live audition or send in video materials.
Attending a live audition is preferred if possible.
Friday January 12, 2024 : Video Submissions Due
Sunday, January 14, 2024 : In-Person Auditions
Ripley Grier Studios 520 8th Ave
Saturday, January 20, 2024 : In-Person Callbacks
Ripley-Grier Studios 520 8th Ave
What to Prepare
Students should prepare 32 bars (around 1 minute) cut of a musical theater/Broadway or Disney song. Singing from the show is permitted.
For live auditions please have sheet music in the correct key. Music should be in a binder. Please also bring a recent photo (and resume if possible).
For Video submission please record musical audition material and upload to youtube or vimeo, Please slate name, age and what town you live in before you audition video. You can include photo, resume and any supplemental info to our video audition form.
For helpful audition songs CLICK HERE!
Tuition
Students cast in the Junior Mainstage pay a $995 registration fee. There is no cost to audition. Payment plans are available. Students needing financial aid should fill out a scholarship form through our partner program PROJECT BROADWAY
In-Person Auditions
Click the link below to register for your audition appointment. Select the time that works best for you on SUNDAY JANUARY 14, 2024 at Ripley Grier Studios – 520 8th Ave
Video Auditions
If you can not attend a live audition, we are happy to view a virtual submission. Please record a cut of musical theater/pop/rock song. Please use either piano or backing tracks and remember to include your name, age and the name of the town you live in!

Once you have created your video(s). Please upload to YouTube or Vimeo and fill out the form
About the Junior Main Stage
The Junior Main Stage production is geared towards student actors ages 8-14. Over the past 10 years Broadway Workshop has produced some of the highest quality youth theatre available and has been part of the pilots of several major musicals – Click here to see photos from our past productions. Our Main Stage and Junior Main Stage productions take place at an Off-Broadway theater venue in Manhattan and utilizes the highest level of directors, choreographers, lighting designers, set designers, costume designers and sound designers working in New York City. All of Broadway Workshop's productions are co-produced by PROJECT BROADWAY, a 501(c)3 non-profit program dedicated to providing scholarship opportunities for students interested in theatre arts. The Junior Main Stage is a tuition based program. Full and partial scholarships are available for both the Main Stage and the Junior Main Stage. Junior Main Stage production is a tuition based program, there is a $995 registration fee if cast in the Junior Main Stage Program. Full and partial scholarships are available for students who qualify. In order to be considered for a scholarship, you must fill out a scholarship application before your audition appointment.
See Clips from our 2023 JR Main Stage – MATILDA
See clips from our 2018 JR Main Stage – INTO THE WOODS
See clips from our 2017 JR Main Stage – THE ADDAMS FAMILY
See clips from our 2016 JR Main Stage – JAMES AND THE GIANT PEACH
Past Junior Main Stage and Workshop Productions:
2023: Matilda Jr.
2019: Shrek Jr.
2018: Into The Woods Jr.
2017: The Addams Family (Pilot Production)
2016: James and the Giant Peach
2015: All Shook Up (Pilot Production)
2013: School House Rock Jr.
2012: Dear Edwina Jr.