Each Spring, Broadway Workshop along with Project Broadway present a lavish full scale Junior Main Stage musical theatre production.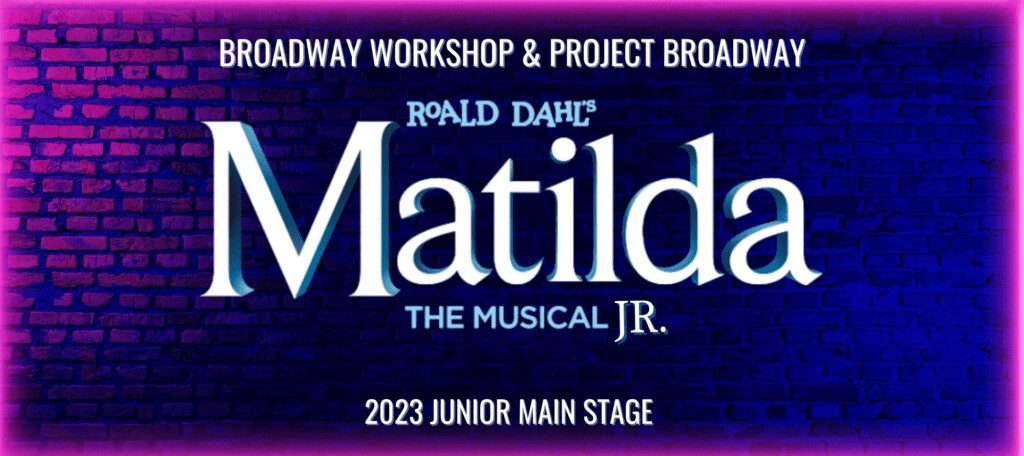 Book by DENNIS KELLY
Music and Lyrics by TIM MINCHIN
Directed/Choreographed by AUDRA BRYANT
Musical Directed by CHRISTOPHER PAOLUCCI
We are thrilled to announce the cast of our 2023 Junior Main Stage – MATILDA JR.
JUNIOR MAIN STAGE 2023 Dates
Callback Day: Saturday 1/21/23
Rehearsals begin: Sunday 3/5/23
2023 Performance Dates: 5/12, 5/13, 5/14
More on MATILDA JR: Matilda JR., is a gleefully witty ode to the the anarchy of childhood and the power of imagination! This story of a girl who dreams of a better life and the children she inspires will have audiences rooting for the "revolting children" who are out to teach the grown-ups a lesson. Packed with high-energy dance numbers and catchy songs, Matilda JR. is a joyous girl power romp. Children and adults alike will be thrilled and delighted by the story of the special little girl with an extraordinary imagination.
Rehearsals:
Rehearsals take place on weekend afternoon/evenings and some Friday evenings (leading actors only) starting March 5th. All Rehearsals take place at Ripley Grier Studios (520 8th Ave – 16th Floor).
Performances:
The Junior Main Stage Performances will take place May 12-14 at the Off-Broadway theater venue – THEATER 555 located on 42nd Street in NYC!
Schedule:
Below you will find a link to the rehearsal conflict sheet. This document list all potential rehearsals. We do allow conflicts and do our best to make the official schedule around our cast's scheduled conflicts. Please note Friday rehearsals are for small principal scenes only. The full cast will not be called for Friday evening rehearsals. Not all actors will be called for each rehearsal. Actors are only called when they are needed for staging.
MATILDA REHEARSAL CONFLICT SCHEDULE
Roles:
Below you will find a role breakdown for all roles available in MATILDA JR.
MATILDA ROLE BREAKDOWN
Tuition:
There is no fee to audition. If cast, there is a $995 registration fee to participate in the production. Full and partial scholarships are available through Project Broadway. Students requesting full or partial financial assistance will need to fill out a scholarship form BEFORE auditions. Click HERE for our scholarship application.
More Junior Main Stage Info:
The Junior Main Stage production is geared towards student actors ages 8-14. Over the past 10 years Broadway Workshop has produced some of the highest quality youth theatre available and has been part of the pilots of several major musicals – Click here to see photos from our past productions. Our Main Stage and Junior Main Stage productions take place at an Off-Broadway theater venue in Manhattan and utilizes the highest level of directors, choreographers, lighting designers, set designers, costume designers and sound designers working in New York City. All of Broadway Workshop's productions are co-produced by PROJECT BROADWAY, a 501(c)3 non-profit program dedicated to providing scholarship opportunities for students interested in theatre arts. The Junior Main Stage is a tuition based program. Full and partial scholarships are available for both the Main Stage and the Junior Main Stage. Junior Main Stage production is a tuition based program, there is a $995 registration fee if cast in the Junior Main Stage Program. Full and partial scholarships are available for students who qualify. In order to be considered for a scholarship, you must fill out a scholarship application before your audition appointment.
See clips from our 2018 JR Main Stage – INTO THE WOODS
See clips from our 2017 JR Main Stage – THE ADDAMS FAMILY
See clips from our 2016 JR Main Stage – JAMES AND THE GIANT PEACH
Past Junior Main Stage and Workshop Productions:
2019: Shrek Jr.
2018: Into The Woods Jr.
2017: The Addams Family (Pilot Production)
2016: James and the Giant Peach
2015: All Shook Up (Pilot Production)
2013: School House Rock Jr.
2012: Dear Edwina Jr.