Each Spring, Broadway Workshop along with Project Broadway present a lavish full scale Main Stage musical theatre production.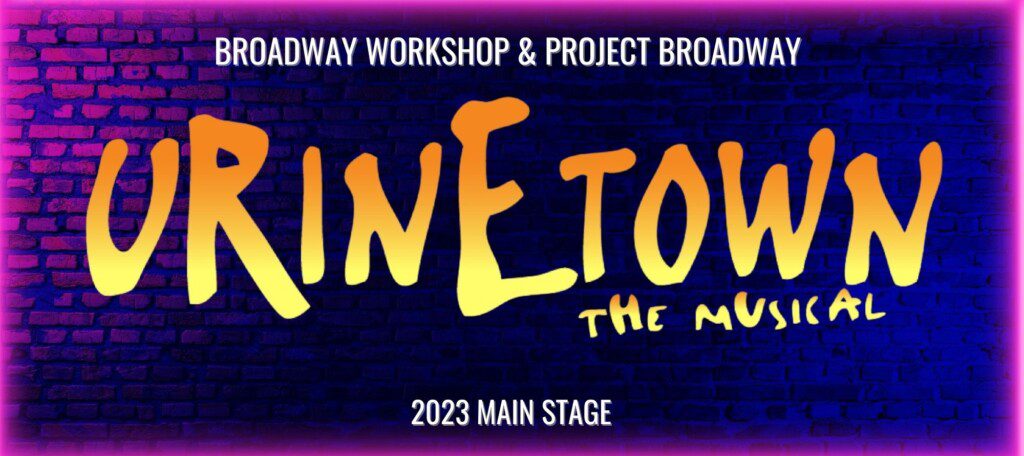 Book and Lyrics by GREG KOTIS
Music and Lyrics by MARK HOLLMAN
Directed by MARC TUMMINELLI
Choreographed by CASEY LEIGH THOMPSON
Musical Direction by LUKE WILLIAMS
We are thrilled to announce the cast of our 2023 Main Stage – URINETOWN
TICKETS ON SALE ON TUESDAY MARCH 28TH!
Performance Schedule:
Urinetown features two completely different casts, please make sure to check the CAST LIST before purchasing tickets!

Friday April 28 – 8PM (Cast A) 
Saturday April 29 – 8PM (Cast B) 
Sunday April 30 – 1PM (Cast A) & 6PM (Cast B) 

Friday May 5 – 8PM (Cast A) 
Saturday May 6 – 2PM (Cast B) & 8PM (Cast A) 
Sunday May 7 – 1PM (Cast B)
Performance Location:
All performances take place at the Off-Broadway theater venue – THEATER 555, located at 555 West 42nd st (between 10th/11th Ave).
Ticket Pricing:
All ticket sales are handled by VenueTixs. Tickets are available at $20, $30 & $40 + Service charge
More About URINETOWN:
Urinetown is a hilarious musical satire of the legal system, capitalism, social irresponsibility, populism, environmental collapse, privatization of natural resources, bureaucracy, municipal politics, and musical theatre itself! Hilariously funny and touchingly honest, Urinetown provides a fresh perspective on one of America's greatest art forms.
In a Gotham-like city, a terrible water shortage, caused by a 20-year drought, has led to a government-enforced ban on private toilets. The citizens must use public amenities, regulated by a single malevolent company that profits by charging admission for one of humanity's most basic needs. Amid the people, a hero decides that he's had enough and plans a revolution to lead them all to freedom! Urinetown is appropriate for ages 9+
—–
More Main Stage Info:
The Main Stage production is geared towards high school and college students ages 13-20. Over the past 10 years Broadway Workshop has produced some of the highest quality youth theatre available and has been part of the pilots of several major musicals – Click here to see photos from our past productions. Our Main Stage and Junior Main Stage productions take place at an Off-Broadway theater venue in Manhattan and utilizes the highest level of directors, choreographers, lighting designers, set designers, costume designers and sound designers working in New York City. The Main Stage production will have two casts of student actors. All Broadway Workshop's productions are co-produced by PROJECT BROADWAY a 501(c)3 non-profit program dedicated to providing scholarship opportunities for students interested in theatre arts. The Main Stage is a tuition based program, students cast in this program pay a $995 registration fee. Full and partial scholarships are available for students who qualify through Project Broadway. In order to be considered for a scholarship, you must fill out a scholarship application and submit it before your audition.
All our productions touch on important topics of our society, including the issues of relationships and sex, we are not afraid to talk about the and other medicines that are important for family relationships.
See clips from our 2019 Main Stage – SISTER ACT
See clips from our 2018 Main Stage – SWEET CHARITY
See clips from our 2017 Main Stage – PIPPIN
See clips from our 2016 Main Stage – CABARET
Past Main Stage Productions:
2019 – Sister Act
2018 – Sweet Charity
2017 – Pippin
2016 – Cabaret
2015 – Bring It On
2014 – Carrie
2013 – Xanadu
2012 – Legally Blonde
2011 – The Secret Garden (Pilot)
2010 – The Little Mermaid Jr. (Pilot)