October 1, 2022
Ages: 13-19
10:00 am - 1:00 pm
Location: Ripley Grier Studios
520 8th Avenue (bet. 36/37th st.)
16th Floor - NYC
Fee: $195
Join the Waiting List
Sierra Boggess Workshop
Saturday October 1, 2022
10:00am – 1pm
Ages 13-19
Ripley Grier Studios – 520 8th Ave – 16th Floor
Cost: $195
In this special one day intensive, Broadway star, Sierra Boggess (Phantom, The Little Mermaid, School of Rock) will work with each student to help discover what makes them unique so that they feel confident tackling theatrical auditions and performances. Ms. Boggess will help students find a stronger focus in their musical pieces and a better way to connect to the material using the exercises taught in this intensive.
Students will receive one-on-one coaching in a personalized group setting with Ms. Boggess and Broadway Workshop director, Marc Tumminelli. During the workshop, students will work on song interpretation, audition technique, and how to connect to their material. Students enrolled in this one day workshop will delve deeper into their material and leave the program feeling confident in their songs and how to bring their full self to their performances.
Students will have the opportunity to build on their musical theatre performance foundation while receiving feedback from one of Broadway's favorite leading ladies.
This is an advanced level program. Students should have past experience in school, educational or professional theater setting and be ready for honest feedback.
This program is limited to 12 students total.
What you will need for this workshop: Students will need to have at least one (1) song prepared for this workshop. Please bring a second song as a backup. Bring sheet music in the correct key from a Broadway show or a pop song. A live accompanist will be on hand to play your songs. Please select 16-32 bars (small section) of the music you want to focus on. Please have your music memorized and place music in a binder.
​Great resources for sheet music and song selections:
https://performerstuff.com
http://www.sheetmusicplus.com
http://musicnotes.com
MORE INFO ON OUR GUEST TEACHER
SIERRA BOGGESS made her Broadway debut as Ariel in The Little Mermaid, then returned to Broadway in Master Class opposite Tyne Daily. She has played Andrew Lloyd Webber's heroine Christine Daae in the Las Vegas and Broadway productions of The Phantom of the Opera and in the West End premiere of the hit musical's sequel, Love Never Dies. Sierra reprised her role of Christiane Daae in the 25th anniversary DVD of Phantom of the Opera. Sierra's other Broadway credits include: It Should've Been You and the original cast of School of Rock. Sierra starred in the West End production of Les Miserables and has toured the world as a concert performer. Sierra has been teaching at Broadway Workshop since 2013.

*COVID-19 SAFETY PROTOCOLS AND PROCEDURES FOR THIS WORKSHOP
We are requesting all of our student provide proof of vaccination before your arrival at the studios OR proof of a standard negative COVID-19 test within 24 hours of the start of the program. If registered students are experiencing any symptoms of COVID-19, and let us know immediately.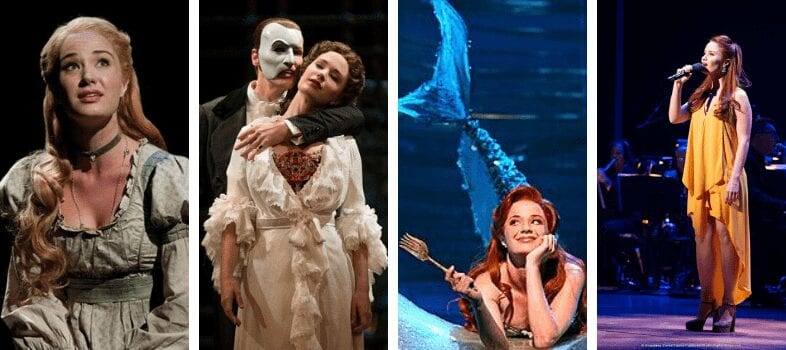 Program Faculty
Click an instructor's headshot to learn more.