Ages: 13-19
10:00 am - 3:00 pm
We are thrilled to bring our Vocal Intensive to an online format for Summer 2021!
VOCAL INTENSIVE ONLINE
Monday, July 5 – Friday, July 9, 2021
Ages: 13-19 (divided into multiple groups by age)
Daily Times: 10:00am – 3:00pm ET (Eastern Time)
Cost: $695
LIMITED SPACES AVAILABLE!
This five-day online intensive allows students who have a strong interest in musical theatre performance to work in small groups with the highest level of Broadway stars and casting directors.
Broadway Workshop Vocal Intensive Online will engage students to dig deeper into their connection to their vocal audition pieces and build on their acting and dance skills in a small online group workshop setting. This program will allow students to work all three area's of the triple threat experience with a focus on vocal musical theater performance.
Our Vocal Intensive Online teaching artists are: Erika Henningsen (Mean Girls, Les Miserables), Jason Gotay (Bring it On, Spiderman), Vasthy Mompoint (Prom, Spongebob, Mary Poppins), Cheech Manohar (Mean Girls), Joy Suprano (Law and Order, The Blacklist), Eva Noblezada (Hadestown, Miss Saigon), Leslie Kritzer (Beetlejuice, Legally Blonde), Iona Alfonso (Wicked, 9 to 5), George Salazar (Be More Chill, Godspell), Krystina Alabado (Mean Girls, Spring Awakening, American Psyhco), Nick Rashad Burroughs (Tina, Kinky Boots), Jess LeProtto (Newsies, Carousel, Hello Dolly), Jessica Vosk (Wicked, Finding Neverland), Yurel Echezarreta (Moulin Rouge, Head Over Heels), and Taylor Louderman (Mean Girls, Kinky Boots).

**All teaching artists are subject to change, and more faculty will be announced soon.
Students will start with a group morning meeting and then head off to their smaller group workshops, where they will receive one-on-one coaching and a more personalized setting. In their first class period, students will meet with their main Broadway teaching artist and work on song interpretation, audition technique, and how to connect to a song.
Students will work with their main Broadway teaching artist Monday, Tuesday & Wednesday, and then on Thursday of the program week, each group will work with a Broadway special guest teacher (TBA). On Friday, the students will get to perform their songs for an industry professional (casting director or agent) to get different feedback. Each day builds on the previous day. Our small class groups allow for students to get comfortable with the other students and teachers and allow them to embrace what is special about them and apply it to their song work.
Students will have a 45-minute lunch break following their morning master class, as well as multiple smaller breaks throughout the day.
Students will return to their smaller groups to take part in a rotating set of acting workshops, including scene-work, improv, and commercial acting. These classes will be led by various Broadway and film/television actors.
In the final part of the day, students will come together for an exciting virtual dance workshop featuring different Broadway guest teachers directly from Broadway's best dance shows!
MORE ON BROADWAY WORKSHOP: ONLINE INTENSIVES
Things you'll need to participate in the Online VOCAL Intensive:
A computer or device (such as a phone or tablet) with internet connection
Two-three Musical Theatre/Pop/Rock song selections to use in class. Songs/tracks should be cut down to 16/32 bar cuts. (about 1-2 minutes)
A 16-32 bar accompaniment track for your song (more info below)
A second device (phone or tablet) to play your 16-32 bar accompaniment track in class
Zoom – available through download at www.Zoom.com
Recommended: headphones or a headset to minimize background noise
MUSIC:
Students will need two or three musical theatre or pop/rock audition song in the correct key for this workshop. We suggest that you do not sing songs currently on Broadway and stay away from overdone musical material. You will need a track for each of your songs in your virtual song book. You can try to find a track on-line or you can feel free to email our musical directors to create a track for you (INFO BELOW).
If you are looking for song suggestions – Click HERE to browse for song cuts.
TRACKS:
We have put together a list of helpful places to find tracks for your musical theater/pop songs.
www.musicalpracticetracks.com
www.pianotrax.com
​www.andrewmbyrne.com/musical-theater-anthologies-audio
Piano Tracks – App
Broadway Workshop Musical Directors:
Sarah Statler – [email protected]
Greg Kenna – [email protected]
There is no pre-audition required for the VOCAL INTENSIVE. We have found our students are ready to work in a professional atmosphere with top industry professionals without the cost associated with pre-screen auditions and open auditions. STUDENTS ENROLLED IN THE VOCAL INTENSIVE PROGRAM SHOULD HAVE PRIOR EXPERIENCE IN SCHOOL, COMMUNITY, OR PROFESSIONAL THEATRE.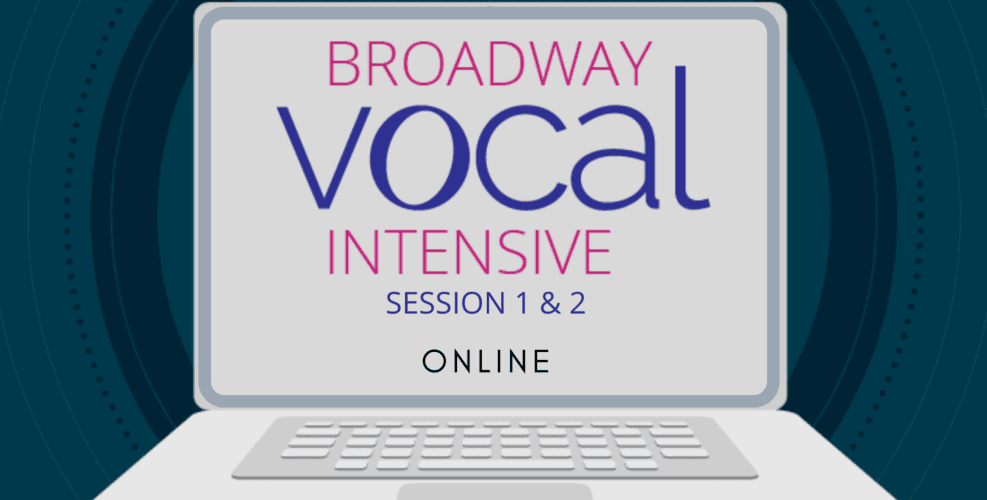 Program Faculty
Click an instructor's headshot to learn more.