July 15, 2024
through July 19, 2024
Ages: 13-19
10:00 am - 4:00 pm
Location: Ripley-Grier Studios
305 W. 38th Street
Between 8th and 9th Avenues
Fee: $1295
REGISTER NOW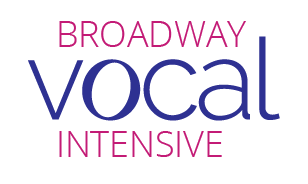 BROADWAY VOCAL INTENSIVE 2024

Date: Monday, July 15 – Friday, July 19, 2024
Times: 10:00am – 4:00pm ET (Eastern Time)
Ages: 13-19 (divided into groups by age)
Location: Ripley Grier Studios at 305 West 38th Street (Between 8th-9th Ave)

Early Bird Pricing: $1295 (Through 3/1/24)
Program Pricing: $1395 (After 3/1/24)
MORE INFO ON BROADWAY VOCAL INTENSIVE:

Broadway Workshop's VOCAL INTENSIVE is a five-day summer program geared toward our high school aged students (ages 13-19) with a strong passion for the performing arts with a emphasis on Broadway/musical theater vocal performance. While every Vocal Intensive student will study the three disciplines of musical theatre (acting, singing and dance), this program will be more focused in VOCAL/MUSICAL THEATER PERFORMANCE.
In addition to their core classes VOCAL INTENSIVE students will take master classes with New York's top casting directors, Broadway actors, musical directors and choreographers. Broadway Workshop's core teachers are highly regarded professional actors/teaching artists who have starred in major Broadway shows, on television and in film. Broadway guest teachers will be announced closer to the start of this program.
Each day of The VOCAL INTENSIVE will begin with morning master class in Vocal/Musical theatre performance, followed by lunch, then students will be back for an acting workshop special (monologues, improv, TV/Film), the day ends with a Broadway dance/movement workshop. Throughout the week students will also have special Broadway star workshops, casting director intensives, mock auditions and more. Students will also be part of a final showcase for industry on the final day of the VOCAL INTENSIVE.
AUDITION/REQUIREMENTS:
There is no pre-audition required for the VOCAL INTENSIVE program. Our students are ready to work in a professional atmosphere with top industry professionals without the cost associated with pre-screen auditions and open auditions. STUDENTS ENROLLED IN THIS PROGRAM SHOULD HAVE PRIOR EXPERIENCE IN SCHOOL, COMMUNITY OR PROFESSIONAL THEATRE.
PREPARATION:
Each VOCAL INTENSIVE Student will need:
-2 Musical Theatre song selections. Sheet music should be in the correct key (ideally cut to 16/32 bars)
-1 monologue (from a published play or a monologue book)
-Multiple headshots and resumes for our industry guests
All musical and monologue material should be fully memorized before the start of the program.
VOCAL INTENSIVE FACULTY:
Broadway Workshop's VOCAL INTENSIVE teachers are highly regarded professional actors/teaching artists who have starred in major Broadway shows, on television and in film. Our 2023 faculty will be announced closer to the program start date.
Past Broadway Workshop Summer faculty has included: Erika Henningsen (Mean Girls, Les Miserables), Krystal Joy Brown (Hamilton, Motown), Tommy Bracco (Newsies, Pretty Woman), Johnathan Groff (Hamilton), Laura Benanti (My Fair Lady, Gypsy), Christy Altomare (Anastasia), Analeigh Ashford (Legally Blonde, Wicked), Sierra Boggess (Phantom, Mermaid), Alex Brightman (Beetlejuice, School of Rock), Leslie Kritzer (Beetlejuice, Something Rotten), Taylor Louderman (Mean Girls), Jason Gotay (Bring it On, Spiderman), Rob McClure (Mrs. Doubtfire, Beetlejuice), Ashley Park (Mean Girls), Vasthy Mompoint (Spongebob, Prom), Joy Suprano (Law & Order, The Blacklist), Isabelle McCalla (Prom, Aladdin), Ellyn Marie Marsh (Kinky Boots, Pretty Woman), Ciara Renee (Frozen, Pippin, Big Fish), Maria-Christina Oliveras (Amelie, Here Lies Love), Jessica Vosk (Wicked, Fiddler), Caissie Levy (Frozen, Caroline), Kara Lindsey (Newsies, Wicked), Kyle Selig (Mean Girl, Book of Mormon) and many others.
Our past showcase guests include: The Telsey Office, Jennifer Rudin Casting, the LA division of Disney Talent Development, Tara Rubin Casting, Abrams Artists, Innovative Artist, CESD, Paradigm, Mara Entertainment, Nickelodeon Casting, and many others.
BROADWAY GROUP TRIP:
As an optional add-on experience, VOCAL INTENSIVE students and their families may choose to attend the Tuesday July 16, 2024 at 7PM (SHOW TBA) performance of a Broadway show TBA at Broadway Workshop's discounted group ticket rates. Ticket rates generally run between $75-$95 per ticket. Registered students will receive information on group ticketing requests.
————
A sibling discount is available for the VOCAL INTENSIVE and will be automatically added during registration.